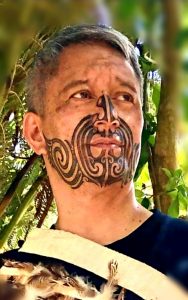 Heart failure turned James' life upside down, but with a bit of help from a Financial Mentor, the financial stress in James' life was able to be reduced…
James realised that something wasn't right when he noticed that he was running out of breath very quickly. "I would pull my bins in from the road and when I got to the door of the house, I was huffing and puffing. I knew I was out of shape, and I thought that confirmed it." But James was not out of shape. His heart was not pumping enough blood, in fact, his heart was failing.
On Christmas eve 2019, James was put into ICU, his whanau were called to say that he wouldn't make it through the night. He was in and out of consciousness and ended up staying for three days before being transferred to Auckland. He had originally been told he had pneumonia, but on Christmas Eve, James learned that he needed a new heart. Even during that difficult time, James was trying to figure out his budget.
James was put on a heart transplant list. His decline in health meant he was no longer able to continue his full-time role as a hospital Theatre Technician and he started receiving a benefit. James' wife lost her job in a company restructuring. He knew that if he got a phone call to say there was a heart available, both he and his wife would be away from Christchurch for four months and bills would still need to be paid. A referral from Purapura Whetu put him in touch with Kingdom Resources, to develop a plan to enable him to reduce stress in his life by gaining control of his finances.
James developed a good rapport with Jenny, his financial mentor. He explains, "When you get to my age and you find yourself struggling financially and you need to ask for help, you get whakama [embarrassed] about reaching out for help. I think it's really important to have people like Jenny in [Kingdom Resources'] office because she makes those that feel embarrassed, not feel embarrassed."
James began to feel less stressed as he started feeling more in control of his budget. This enabled James to focus on achieving other goals. Before his grandmother passed away, James told her he would work on his Te Reo. It's been difficult for him following a stroke, as his retention and cognition is a struggle, but James has been learning Te Reo at Ara Polytechnic. James explains, "Because I've been a part of Kingdom Resources, if my life wasn't settled, I probably wouldn't have been able to have started [studying Te Reo]."
Today James says his finances are good, "I know what I'm supposed to do, I know how I'm supposed to do it, and I know why." He ensures that he doesn't go above and beyond his means. He also saves, which he says Jenny reinforced.
"I think the support we've received makes us feel like it's going to be ok… It's going to be ok. I'm able to move forward with my dreams and not have to worry about all the stress."
By Janine Millington